Top 55 Clean Eating Dinner Recipes in 30 Minutes
If you are looking for real clean eating dinner recipes, you will love the top 55 clean eating dinner recipes in 30 minutes l have here. They are fast to make them and clean eating.
I have put in a lot of sweat and brain power into these 55 clean eating dinner recipes to make them fast and clean eating. I'm a great cook (yes, I will own it and won't be shy) and a girlfriend of mine is a fabulous one too.Just a few days ago, we had a conversation how each dinner is a full-blown strategy making it fast, light enough for a mom, filling for a dad and the one that kids will like.Preferably with some leftovers.
Easy, right?! NOT. My SIL with 3 kids says there are never leftovers at her house no matter the amount of food she makes. I believe that! I know you are probably knees deep into baking right now but truth is a dinner still gotta be served. That's why I do not bake much. Plus I need room for wine (however, I learn't how to stop drinking wine, at least as much as I did).
I learnt my lesson that January will come eventually and that is when she will hit the fan for realz. So, no, thank you! However, a little splurge is OK. For the actual Holiday I will buy an Italian cake and baked goods – my favourites.
Enjoy these clean eating dinners in 30 minutes (or less) and share with a few friends. Buttons at the top. Don't be shy – the more people eat healthy, the lower our medical bill. I'm serious.So, share away, share away. You might also like 50 clean eating chicken recipes, 25 clean eating breakfast recipes on the Go and 65 clean eating freezer meals.
55 Clean Eating Dinner Recipes in 30 Minutes
Baked Chicken with Peppers & Mushrooms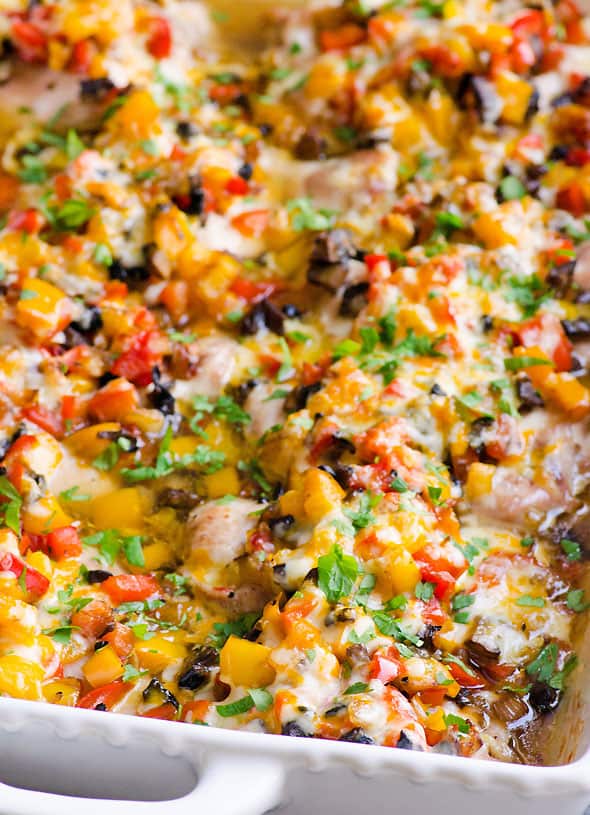 Thai Turkey Meatballs
Veggie Mac and Cheese Muffins
Peanut Butter Rice with Cruciferous Vegetables